Over the years, the campus has appeared on the large and small screen many times. Here's a glimpse of the ones we've spotted. If you spot others, then please let us know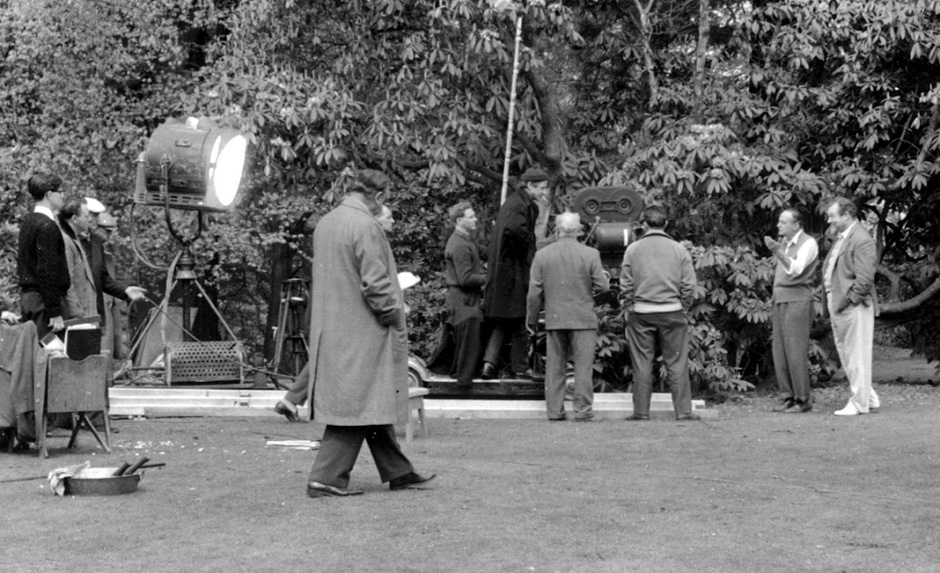 St. Trinians
Contrary to popular belief, none of the St. Trinian movies were ever filmed on campus, but rather at the nearby Oakley Court in Windsor - also a favourite location for the Hammer House of Horror series of films.
A French Mistress (1960)
The Boulting Brothers filmed their comedy A French Mistress, at Shoreditch Training College in 1959, starring Agnes Laurent and James Robertson Justice. It features many views of the college grounds before the development of the news halls of residence, as well as some interior shots too.
A French Mistress is available on DVD from Amazon.
The Wrong Box (1966)
The Wrong Box is a British comedy film produced and directed by Bryan Forbes, and is based on the novel by Robert Louis Stevenson and Lloyd Osbourne. The cast includes a number of Britain's leading actors and comic actors of the time, including John Mills, Ralph Richardson, Michael Caine, Peter Cook, Dudley Moore, Peter Sellers, Irene Handl and Tony Hancock.
Strictly speaking, the campus does not feature on-screen, but a horse chase scene was filmed just outside the enhance gates on Coopers Hill Lane, as well as Englefield Green itself - including a cameo appearance by the Barley Mow!
Bhaji On The Beach (1993)
Bhaji On The Beach is a 1993 film by director Gurinder Chadha with a screenplay by Meera Syal. It was a surprise commercial and critical hit. It garnered numerous international awards, was nominated for a Bafta and won Chadha the Evening Standard Award for 'Newcomer to British Cinema.'
The campus features occasionally in the film, with scenes involving Marshal Hall arch, and interiors of Williams Hall. The (then) accommodation manager for the campus, Carolyn Watts, even plays a small part in the film as a family planning councillor!
Bhaji On The Beach is available on DVD from Amazon.
Dread (2008)
Dread is a 2009 horror film directed by Anthony DiBlasi and starring Jackson Rathbone (he of Twilight fame), Shaun Evans and Hanne Steen, based on the short story of the same name by Clive Barker. The story was originally published in 1984 in volume two of Barker's Books of Blood short story collections.
The campus features throughout the film, both inside and out, with many scenes being shot in the President Hall cellars and Pillar Hall Gardens. It was filmed during 2008, at the same time as much of the photography featured on this website was taken.
Dread is available on DVD, or as part of the Clive Barker Boxset, from Amazon.
Sex & Drugs & Rock & Roll (2009)
Sex & Drugs & Rock & Roll is a 2010 biopic of Ian Dury, starring Andy Serkis (he of Lord Of The Rings Gollum fame) as Dury. The film follows Dury's rise to fame and documents his personal battle with the disability caused by having contracted polio during childhood. The title of the film is derived from Dury's 1977 7" single, "Sex & Drugs & Rock & Roll".
The campus features extensively during the film, with President and Pillar Halls being used to depict Dury's school. The Workshop Blocks and Students Union also feature, doubling as a gig venue.
Sex & Drugs & Rock & Roll is available on DVD, or Blu-Ray, from Amazon.
Luther (2010)
Luther is a BBC psychological crime drama television series starring Idris Elba as the title character Detective Chief Inspector John Luther. A first series of six episodes was broadcast on BBC One from 4 May to 8 June 2010.
The campus features briefly in the first episode, whereby the Principal's House is used as the scene of a gruesome murder.
Luther Series 1 is available on DVD, or as part of the Series 1 & 2 Boxset, from Amazon.
Lewis (2010)
Lewis is a television detective drama made as a spin-off from the long-running Inspector Morse TV series. Kevin Whately reprises his character Robert "Robbie" Lewis, who had been Morse's Sergeant in the original series. Lewis has now been promoted and is assisted by DS James Hathaway, played by Laurence Fox. The series first aired in 2006, and to date has enjoyed 5 series.
The campus features in the final episode of the fourth series, Falling Darkness, as a disused private hospital. Several scenes were shot on campus, including some featuring a graveyard adjacent to President Hall (!) as well as some interior shots from around the top floor of President, Lewis being throttled out of a window and a dramatic fall from the President balcony.
Lewis Series 4 is available on DVD from Amazon.
Downton Abbey (2011)
Set in the North Riding of Yorkshire in the years leading up to World War I, Downton Abbey centers on the Crawley family and their servants living at the fictions estate of Downton Abbey.
President Hall features towards the end of the last episode of series 2, doubling as Ripon's Registry office when Anna & John Bates marry in secret. Congratulations to Jill Sandwell for her eagle eyes spotting this brief campus appearance.
Downton Abbey Series 2 is available, from Amazon.
Nero - Crush On You (Music Video) (2011)
Spotted by fellow alumni Chris Petzny, this music video for Nero was lamost entriely shot on campus, in the summer of 2011. The campus is clearly very overgrown in places, as is the music.
Midsomer Murders (2013)
Midsomer Murders is a long-running ITV crime drama set in the fictitious county of Midsomer. Since it first aired in 1997, it's seen almost 100 episodes created over 15 seasons, and a great deal of bodies piling up, surely making Midsomer as dangerous a place to live as any crime-riddled inner city ghetto!
The campus features in the episode 'The Sicilian Defence' in the fifteenth series, as a private hospital. Several scenes were shot on campus, mainly in President, College and Pillar Halls, but also the climatic scenes feature President Hall cellars - including some areas I wasn't able to photograph. Eagle-eye badge goes to Aidan Fisher for spotting this campus outing.